Wire meshes for automotive engineering, process engineering and environmental technology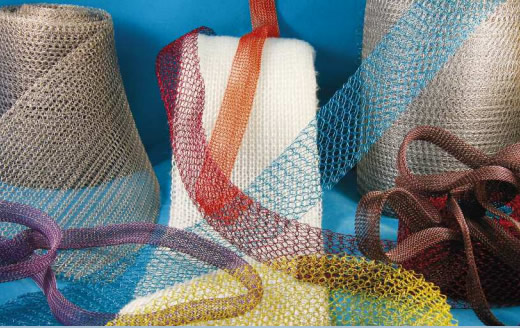 As an innovative manufacturer of high quality knitted wire meshes we have for many years been a dependable partner in the automobile manufacturer and supplier industries as well as for renown companies in the process and environmental engineering industries. Working closely with our customers we design individual solutions for their filtration, positioning and insulation applications. We moreover view the continual development of new and improved knitted wire meshes as an especially important challenge. Our in-house tool shop provides us the ability to produce functional prototypes very quickly and efficiently.
Here are just a few examples:
Materials

:
1.4301; 1.4404; 1.4571; 1.4841; 2.4816; 2.4851; Titan; Hasteloy; Eisendraht; Kupferdraht; Abschirmdraht; PA; PE; PP; Glasroving; Kohlefaser

Wire diameter

:

0,03 – 1,00 mm
Wire mesh

width

:
5 – 750 mm

Number of threads

single or multifilament
Wire knits are made from continuous wire in an omega mesh. The main advantage is the three-dimensional mobility of the wire mesh. Variants are available as a round or flat wire version.